The Manhattan SkylineBig East Basketball Championship GuideBy TexanMark
This is one of a series of guides for Big East schools written by Syracuse fan and tailgate aficionado TexanMark. If you have any feedback or additional information you think belongs in this guide, please drop an email message to Mark by clicking
here
or make a comment below.
The Big East Basketball Championship has been held at
Madison Square Garden (MSG)
for nearly thirty years. It usually occurs Tuesday to Saturday with the championship game played on the second Saturday of March. The ACC can crow about their quaint little tournament held at rotating sites throughout tobacco row but it pales in comparison to the one held at the Mecca of basketball in midtown Manhattan. Thousands of fans congregate for several days of basketball, eating and drinking. Many fans are from out of town but New York City residents with various allegiances make up a majority of fans. Interoffice ribbing happens throughout NYC as Orange, Husky, Hoya, Wildcat, Pirate, etc…fans clash over the water cooler prior to and during the tournament.
Madison Square Garden
Madison Square Garden
has been at the present site since 1968. It sits on top of
Pennsylvania Station
on Seventh Avenue between 31st and 33rd Streets and allows easy access throughout the northeast rail systems. Numerous subway lines will bring you literally steps away from
the arena
. Hotels, food, and drink are in close proximity.
In fact there is even a
sports bar
at MSG (see link for some close by dining alternatives). There is more info on dining later in the guide. You can check out the
location
of your seats here.
Parking
is hard to find and very expensive (scroll to bottom).
If you drive by car either park at a commuter station and catch a train or expect to pay about $35 to park downtown. If you are staying at a hotel expect to be charged a big premium to park a car. In my opinion the best course of action for visitors is mass transit or
taxi
to the games. Tourist Hints: This
website
can simplfy your answer on which subway/train line to take from one location to another. Additionally, a map and compass always helps. Subways will get you anywhere you want to go in Manhattan. However, after stepping off the subway it's sometimes difficult to tell which way is uptown or downtown and a small compass will get you going on your way without detours.
TICKETS, SCALPERS and YOU
The Big East Tournament is a huge draw. My best advice is to plan early and get tickets through your own school. It will probably mean joining their fan/alumni club as a donor to have a chance to buy early. Ticket scalping is fact of life in attending desirable sporting events. There are a ton of scalpers around MSG. However, there are smart ways to get a ticket. Syracuse fan Tom states, "The ideal thing is to make friends with as many fans as possible that are sitting near you and ask them if they are planning to sell their tickets if their team loses."
"Scalpers are outside MSG selling and buying all day long each day of the tournament. But their prices are high and there is always the chance you will get stuck with a counterfeit. Before you buy a ticket "on the street" know what a real ticket looks like and what paper and ink is used. The best way to identify a counterfeit ticket is to rub your finger on the bar code. If it smears, it is a fake. However, there are sophisticated fakes out there that will pass the smear test." If you can't buy tickets right in MSG from the losing fans, I think the next best thing is to buy them in the bars surrounding MSG, and in hotel lobbies. You have a lot better chance of getting a good deal buying from a fan than from a scalper. It is not unusual to get tickets for list price or less, especially if the fan selling happens to share your school affiliation. Tickets for the games on Tuesday, Wednesday and Saturday are relatively easy to get. Unless they are top notch, you should have no problem getting them for face value." Anytime Syracuse or UConn are involved the prices usually will be higher. Overall, if you are traveling in a group be prepared to split up. A premium is had for large blocks. Tom further states, "Thursday can be a challenge, especially if the session features Connecticut or Syracuse, the schools with the biggest fan bases in the conference. Friday is really hard; those are the toughest tickets to score and even bad seats at face value are a good deal. If you have a chance to buy Friday tickets on Wednesday or Thursday, do it. Even if you find better ones, you will have no problems re-selling the first ones you bought."
The market for tickets for the BET is tougher than ever with the new teams (Louisville, Marquette and Cincy all have solid, well heeled fan bases). Because BET tickets that are distributed to all BE schools they will be split 16 ways that makes it much harder to get tickets from your own school. Prior to the tourney you should try getting tickets from fans of schools that have smaller fan bases or far from NYC. NOTE: In 2009 all 16 teams wwere invited. This should be a good thing for scalping on the street. You'll have opportunities to buy tickets from fans from 16 teams versus 12 teams.
Madison Square Garden Seating Chart
When on the prowl for tickets, know the seating layout for MSG. If you aren't familiar with it, print a copy of the MSG seating chart and carry it with you. There is a vast difference in desirability and value between tickets in sections 1-133 and tickets in sections 401-428. And the tickets near half court are more valuable than the ones behind the baskets. Expect to pay over face value for tickets close to the court, especially for the sessions on Thursdays and Fridays. Don't pay over face value for seats on the 400 level unless you are absolutely desperate. I sat in the 300 section on the side court (near a basket)and thought the sight lines were good.
A person in the ticket industry told me this: "The key to everything is the barcode. Each ticket has an encrypted barcode printed on it. This barcode will grant access to a single event. At MSG as you walk through the gate the barcode is scanned and a status is returned to the ticket taker. If valid they let you go in (without tearing your ticket) if invalid you are denied access." One problem is a fan can see a game with legal tickets. Afterwards, they can resell their used tickets (in perfect condition) back out onto the street to an unsuspecting patron. This person buys the ticket; it looks real because it is authentic, but is unable to get into the arena because the barcode had been scanned. This issue magnifies itself at MSG between games of a session as fans exit he arena after the first game - the scalpers will ask for used tickets that they can then turn around and sell to people looking to get into the second game." The Future: As a side note, scalpers will be a thing of the past in the next 7-10 years. Everything will be done digitally. If I have ticket to a game and can't use them all I'll have to do is email the venue and they will 'turn off' my barcode, give me a refund, and they immediately add my ticket to their inventory of seats to sell. The future goal for venues and teams is to maintain total control of all ticket transactions, including secondary market sales.
Flying into NYC
New York City is served by three airports:
JFK
,
LaGuardia
, and
Newark Liberty
. Actually, the closest airport to midtown is in New Jersey. You can get to
midtown via bus, train and taxi
from any of the three airports. Three other options are available:
Newburgh Stewart Airport
is located about 50 miles north, and
White Plains Airport
is about 15 miles north, and
MacArthur Islip Airport
is about 25 miles east on Long Island. Note: Southwest Airlines serves Macarthur Airport.
John F. Kennedy (JFK) International
This airport is located the furthest from MSG of the three major airports. It is still possible to use
public transportation
from the terminal to
(costs)
midtown Manhattan and MSG.
This website
details your public transportation possibilities to/from JFK to Midtown Manhattan.
AirTrain
takes you around the airport for free. You connect between the airline terminals, parking, hotel shuttles, and rental car facilities, there's no fee to pay and no ticket is required. In order to catch off airport transportation, take
AirTrain to Jamaica Station
. You have to pay a $5.00 per person access fee in order to connect to or from the Long Island Rail Road (LIRR), subway, local bus, or street. For about $7-12 total (peak, includes AirTrain $5 fee) you can take the
Subway/Long Island RR into Penn Station.
Follow the instructions and click on the links to show you how to purchase metro cards.

Map of JFK Airport--click to enlarge

Other JFK Options:
A taxi to midtown is about $50. This makes sense if you are traveling with several bags, your hotel is far from a subway or bus stop, or you have one or two other passengers to split the bill with. Another option: the various privately owned shuttle buses (just google shuttle buses + JFK--here is
what one looks like
). They cost about $15-20 per person. The MTA runs their own express shuttle to
Manhattan for $15
and if you really know the city and have time you can find info at the above link about regular city buses.
LaGuardia (LGA) Airport
If your flight takes you into
LaGuardia International
you likewise have many options. Prices vary from as little as $2.00 (Bus/Subway) to about $40 or so with a Taxi to midtown Manhattan. LaGuardia is located in northern Queens about 6-7 miles from midtown. Unfortunately it is a bit longer mileage wise by car. If you are comfortable with taking the bus/subway,
this link
will give you a nice overview of the
bus routes leaving LaGuardia
to connect with the subway. Another good option is to take a
commercial bus
to Penn Central Station. They run about $10-12 one way. This is a good way to go for first time travelers to NYC. Note: It will stop first at Grand Central Station. If you have a hotel on the east side you might want to exit at Grand Central.
Newark (EWR) Liberty International Airport
Newark-Liberty
is a great option even though it is in another state (NJ) it is actually close. It is located about 8 miles southwest of midtown Manhattan. You use public transportation from the terminal to midtown Manhattan and MSG. Taxi Cabs are most expensive. Expect to pay about $50-60 to take you to midtown Manhattan. If you are traveling in a group of 2 or 3 you can get a group deal which will make it competitive to other transportation options. This option is great if you don't want to wait, have a lot of baggage or your hotel is not near a subway or bus stop.
Other options
are numerous. If you want a low hassle trip to Penn Station via bus
this link
is for you. If you are traveling light the AirTrain and NJ Transit is a great option. Once you deplane and gather your bags you need to take the
AirTrain
. As the guide says, "All AirTrain rides within the airport are free, so if you only use AirTrain to connect between the airline terminals, parking, hotel shuttle and rental car facilities, no ticket is required." However, most of you will need to pay $5.00 to leave the airport via AirTrain and hook up with NJ Transit to Penn Station in midtown Manhattan.
NJ Transit Map
Click to enlarge
Airtrain Your Way to NYC
It is a little tricky to leave AirTrain and hook up with the NJ Transit service. The train runs around the airport and hooks you into mass transit. It isn't seamless. Click
this link
and click on "From Newark Liberty" and then on the new page click in the "Where are you going? Click on "Midtown Manhattan". The Newark airport guide states: "When you exit AirTrain at Newark Liberty International Airport Train Station, follow the signs to NJ TRANSIT trains. You will go up one level, pass through the fare gates and go down one level onto the NJ TRANSIT and Amtrak train platforms. It takes approximately 5 minutes to get from AirTrain to the NJ TRANSIT or Amtrak platforms." A
printable guide
will provide you info on how to transfer to local and regional trains at Newark Liberty International Airport Train Station. You can buy your NJ Transit ticket in the Airport terminal before you get on the AirTrain. The Newark airport guide states: "If you are going to take NJ TRANSIT, stop by any one of the NJ TRANSIT ticket machines located on the airport near the entrances to the AirTrain stations in terminals A, B and C, at the Ground Transportation Center in Terminal C, or at Newark Liberty International Airport Train Station."
FAN GEAR FOR YOUR HOUSE and TAILGATE

Flags For All 16 Big East Schools Like Marquette as Shown
New to 2010 are great tailgate products offered to my readers...BTW, you get a 10% discount.
College Flags and Banners Co.
is the ultimate source for your tailgate. They offer a huge selection of college flags and banners including all 16 Big East Teams. Plus everything else you need for game day, from
tailgating flagpoles and wheel stands
to
conference pennant sets
. All products are officially licensed and ship within 24 hours. Order today and relieve 10% off your order by typing in coupon code "MARK10" at checkout.
If you are looking for more than just college try their sister company.
Other Sports Flags:
Sports Flags and Pennants Co.
is the premium source for all of your NFL, MLB, NBA, NHL, and NASCAR flags and pennants. Fast, secured shipping to your doorstep and all products are officially licensed. Through our site we are offering a coupon code for 10% off your order. Just enter "MARK10" at checkout.
LODGING
You have two options: stay in Manhattan and pay for your convenience or stay out in the suburbs and save some money. I'm not going to go into all the options in the suburbs but it is advisable you get a motel/hotel near a train/subway stop into Penn Station. I do not recommend driving your car in and parking. If you are a hard core fan you might want to stay as close to MSG as possible.
Hints: Book early and call the hotel directly for better rates. Be sure to ask for AARP, AAA, and Government Rates as applicable. Joining AAA can be a great deal and might pay for itself with the trip to NYC. Deals can sometimes be found through discounters like
Hotels.com
,
Expedia.com
and
Tablethotels.com
. Don't forget some chain hotels offer complimentary breakfast and that can save you time and money each day. I'm going to concentrate on the hotels closest and then some of the better bargains around town. If you are looking for more upscale lodging you probably already know where to stay. This guide is meant more for the tourist on a budget.
Closest
The
Hotel Pennsylvania
is literally steps away. Be advised I have heard mixed reviews on the place throughout the years. However, the hotel has done some extensive remodeling the last few years. It is a favorite hotel for Big East college pep bands. Don't be surprised to hear a version of "Smells Like Teen Spirit" from the hallway at 2 AM one night. For pure convenience this is the place to stay at.
The
Affinia Hotel
(nee Southgate Tower Hotel) is also steps away. It is more expensive than the Hotel Pennsylvania but has better reviews. Note: There are several Affinia Hotels in midtown, make sure you book the right property.
Wingate by Wyndham
This hotel is reasonable for NYC and is within a block.
New Yorker Hotel (Ramada)
About two blocks away. Some mixed reviews but definitely worth a look. With the Ramada affiliation you can get frequent stay points. Note: Undergoing renovations in 2007--so expect the update to freshen up the place.
If you want more options around Madison Square Garden click here:
Google Map with hotels near MSG
Other Inexpensive Options (for NYC)
These ten options and comments are from Denny Lee's New York Times article from December 11th, 2005. You can check his article out for much more extensive write-ups on each hotel. The Hotel Stanford is the closest of the ten hotels to MSG. Expect these hotels to be anywhere from the mid 100s to mid 200s a night. For a room priced under $250 a night you will probably get a very small room with limited services. I don't know about you but when I visit NYC, I don't stay in my room too much so the room size isn't that important. Here is a current article on NYC Hotel scene...check the comments by people below for some insight into where the bargains are:
NY Times Article
A good overview of
NYC Hotels
Affinia Dumont
, 150 East 34th Street (Lexington and Third Avenues), 212-481-7600 A business and pet-friendly spot with gym and spa.
Chelsea Hotel
, 222 West 23rd Street (Seventh and Eighth Avenues), 212-243-3700 A storied bohemian landmark.
Hotel Chelsea
Doubletree Metropolitan
, 569 Lexington Avenue (51st Street), 212-752-7000; A recently renovated Morris Lapidus landmark.
Excelsior Hotel
, 45 West 81st Street (Central Park West and Columbus Avenue), 212-362-9200; Cozy Upper West Side elegance, steps from Central Park.
Gershwin Hotel
, 7 East 27th Street (Fifth and Madison Avenues), 212-545-8000; Hotel-hostel popular with young Europeans.
Hotel QT
,125 West 45th Street (Avenue of the Americas and Seventh Avenue), 212-354-2323; . A cheap chic hotel by André Balazs.
Hotel Stanford
, 43 West 32nd Street (Broadway and Fifth Avenue), 800-365-1114; . The staff at this Koreatown hotel speaks Korean and English (and Spanish).
Hudson Hotel
, 356 West 58th Street (Eighth and Ninth Avenues), 212-554-6000; A former Y.W.C.A. redesigned by Philippe Starck.
Off SoHo Suites Hotel
, 11 Rivington Street (Bowery and Chrystie Streets), 800-633-7646; Euro-style suites between SoHo and the Lower East Side.
The Time
, 224 West 49th Street (Broadway and Eighth Avenue), 877-846-3692; Another hip, high-concept hotel in Times Square.
The Time Hotel
Four more options from TexanMark:
The Pod Hotel
The Pickwick Arms has recently changed their name to the "Pod Hotel". It is crosstown but offers very cheap rooms. It also offers unique pod rooms for those that aren't claustrophobic.
St Mark's Hotel
is located in the east village and is close by Greenwich Village. The
Chelsea Star Hotel
at 302 W 30th St near Chelsea Park. The place has great rates and even offer hostel type dormitory lodging for those on a very tight budget. It is not very far from MSG either...this is a great choice for college students coming in for the games. The
Wolcott Hotel
is actually quite close to MSG and offers rooms for under $200.
DINING
If you can't find a decent meal in NYC you just aren't trying. Below are some recommendations from various internet posters.
TexanMark recommends:
For a huge deli sandwich near MSG try the
The Stagedoor Deli
. It is located at 5 Penn Plaza corner of 33rd St. /8th Avenue diagonally across from MSG. If you want to grab a burger or other comfort food close to MSG try
F.A.T.S.
aka Fat Annie's Truckstop, a retro diner with moderate prices. Located at 131 W. 33rd about a block east of MSG.
For great Italian food in
Little Italy
try
Da Nico's
, (164 Mulberry Street, between Grand & Broome Streets) Phone: (212)343-1212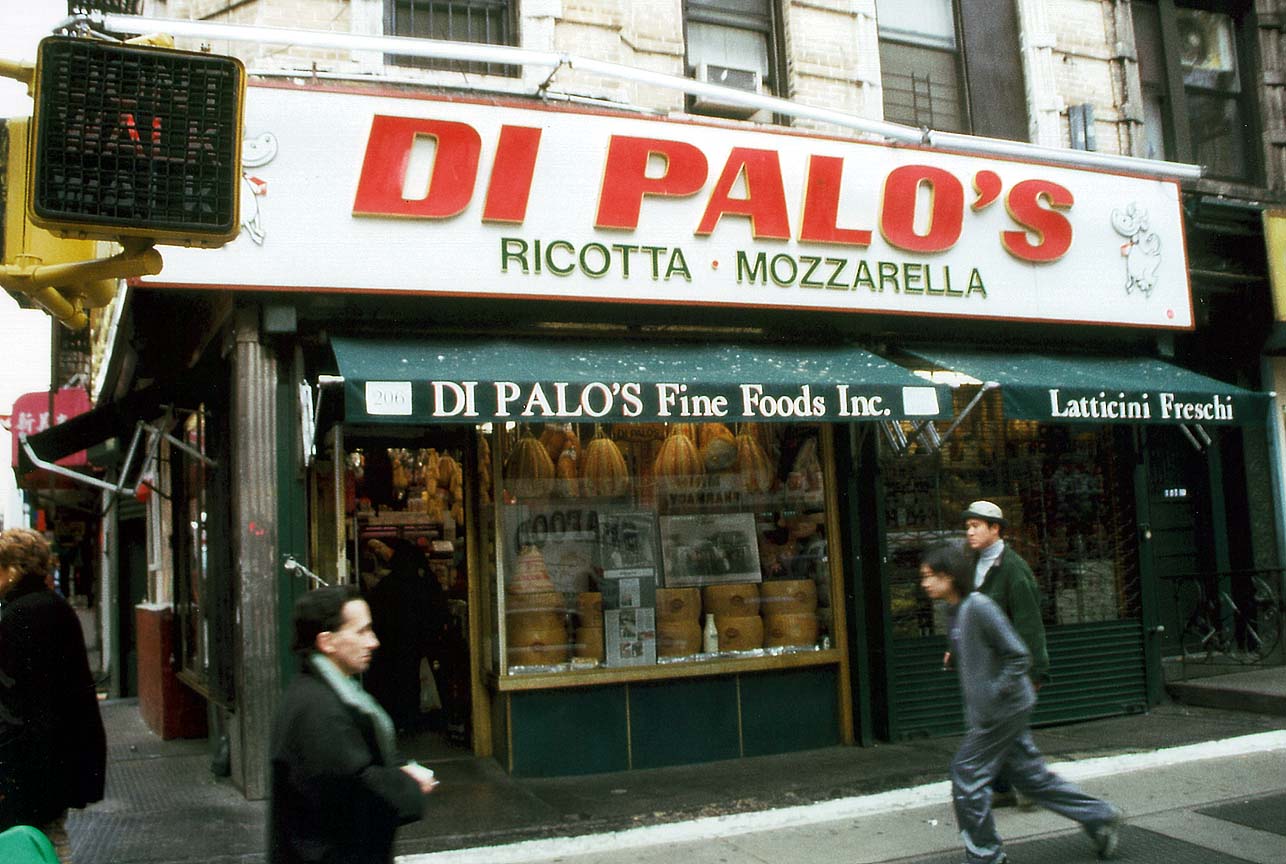 Typical Little Italy Business
Koreatown is only a few blocks east of MSG. Some great lunch specials at a reasonable price are available at
Woo Chon Korean Restaurant
(W. 36th btw 5th & 6th). Finally, for great Barbeque in NYC try
Dinosaur Bar-B-Q
. It is located uptown at 646 W. 131st Street. Phone: 212-694-1777. This is a sister restaurant to the Dinosaurs located in Syracuse and Rochester. Take the #1 Subway to 125th Street. Editors Note: Living down in Texas and Florida for nearly 13 years, I know BBQ. The Dinosaur is as good as any in the south.
MNTN33R recommends:
Zereoue Restaurant
, it is owned by former WVU/NFL player Amos Zereoue. It is moderately priced (for NYC) and offers excellent choices of West African and French inspired dishes. Amos is often there in the kitchen and dining areas.
Pitkanen recommends:
Les Halles
is unpretentious, but has really good food. It is located about ½ mile east of MSG in the Midtown East/Murray Hill area on 411 Park Ave. So., between 28th and 29th streets.
Tristan recommends:
Per Se
in the Time Warner Tower. This restaurant is considered one of the best in the world. Expect to drop some serious coin here and you need to know someone to get a reservation on short notice.
Review.
Tao Restaurant
is upscale Asain. It is located uptown near Central Park. Moderately expensive.
John's Pizzeria
offers great pizza in the Times Square area.
IthacaMatt59 recommends:
Check out this
very nice link
to the Top 101 Restaurants in NYC.
Oyster Bar
in Grand Central -- lower level of Grand Central, grotto atmosphere, very fresh raw bar, a NY institution at 42nd Street and Madison. For large portions of Italian, served family style,
Carmine's
is a very popular destination. While NY'ers might consider the food unsophisticated, it's the type of home style southern Italian that you would find in a lot of places in Syracuse at a reasonable price. In the theater district, only about 10 blocks from the Garden.For more upscale Italian, try
Trattoria Dell'Arte
, located across from Carnegie Hall, on 7th Avenue between 56th and 57th. The antipasto bar is incredible. Huge plaster cast body parts adorn the walls of the different rooms.
Four choices for steak --
The Palm
, on Second Ave between 44th and 45th,
Smith & Wollensky
(3rd Avenue & 49th St) very clubby atmosphere, or a restaurant that I think is underrated,
The Old Homestead
, down on 15th Street and 9th Avenue. Although the Old Homestead gets inconsistent reviews, the best steak I've ever had was there (and I've been to Peter Luger several times). In addition, I nearly forgot a relatively new place,
Wolfgang's
in Murray Hill. It's a near carbon copy of Peter Luger, expensive but supposedly very good.
For a Jewish Deli: Forget Carnegie, the best deli food is at
Katz's Delicatessen
on Houston Street. That's where they shot the famous scene from "When Harry Met Sally". The food is served cafeteria style, and you can keep going back for more until you leave. Get the pastrami, sliced by hand. Very good Mexican food and excellent margaritas can be found at
Gonzalez y Gonzalez
, at 625 Broadway. Phone 212-473-8787 a few doors up from Houston. Just look for the neon sombrero, because you won't find their name on a sign.
NJCuse1 recommends:
Jekyll & Hydes
, a theme restaurant at 1409 Avenue of the Americas, phone (212) 541-9505. Editor's Note: Supposed to be one in the Greenwich Village area too.
Virgil's
Great barbeque in Times Square. SU play by play man Matt Park says it is a must visit anytime he is in NYC. 152 W 44th St, between 6th Ave & Bway. Phone: 212-921-9494
esmorange recommends:
Il Vagabondo
351 E 62nd St. Phone: (212) 832-9221. It offers great Italian food at reasonable prices.
RDcuse recommends:
Schiller's Liquor Bar
131 Rivington Street (corner of Norfolk Street). Phone# 211-260-4555, located in lower Manhattan east of Chinatown.
njcuse recommends:
Cibo
767 2nd Ave, Between 41st & 42nd St. Phone: 212-681-1616
BillOrange recommends:
Dos Caminos
373 Park Ave. So. (between 26th and 27th streets). Phone: (212) 294-1000
Swish recommends:
Pastis
on 9 9th Ave, At Little W 12th St. Phone: 212-929-4844 in the Meat Packing district.
cliftonparksufan recommends:
A neat restaurant about 12 blocks south of MSG is a great place to take a group to. The
Il Bastardo.
TEAM BARS
Fans Celebrating a Big Win @ The BE Tournament
I hope this list takes off and I get names from most of the teams. Below are places near MSG that cater to fans of certain teams. Other BE Teams--send me your recommendations for inclusion of known fan hangouts.
Connecticut:
The traditional UConn hangout (Harp Bar) was torn down in 2006. You should expect to find some fans at
O'Reilly's Townhouse
(aka
Owen O'Reilly's
). It is located at 21 W. 35th between 5th and 6th Avenue Phone # 502-5246
Two other popular spots are
Mustang Harry's
and
Mustang Sally's
. Both of these joints are close to MSG and should be loaded with UConn fans.
Georgetown:Georgetown
fans like to meet at
Cafe 31st
before and after the games. It is located at 220 W 31st St, (Btwn 7th & 8th Ave) Phone: 212-695-5966
Triple Crown Ale House
is another Hoya hangout at 330 7th Ave, (Btwn 28th & 29th) Phone: 212-736-1575
Pittsburgh:
Louisville:
Louisville fans have
discovered Stout
close by MSG. Stout has been a heavy Cuse hangout so expect to see Orange in there.
Pittsburgh
A Pitt bar is
Ship of Fools
(the official Pittsburgh Steelers Bar) but it is a haul from MSG, 1590 Second Ave. between 82nd & 83rd Sts. 212-570-2651
Syracuse:
Blarney Rock
137 W 33rd St. Between 6th & 7th Ave Phone: 212-947-0825. The Blarney Rock is the traditional bar for Syracuse fans but they have claimed
Stout NYC Bar
next door as their own, too. 133 W 33rd St. Phone: 212-629-6191.
If you want to party away from MSG, the unofficial bar for Syracuse Alumni in NYC is the
Town Tavern Bar
in the Village. It is loaded with eye candy. Many Syracuse team viewing events are held at
The Hill
and is fairly close to MSG.
West Virginia:
Local West
is closeby Penn Station and is a WVU hangout. I would suggest any WVU fan head there first. Probably your best chance to score tickets.
Another WVU bar in NYC unfortunately is about 15 blocks north of MSG (8th Ave between 47 th and 48th). The good news is the
Latitude Bar
is a great hangout and they show WVU games. Any 'eer fan know of a hangout closer to MSG for the tourney let me know.
Ex-CUSA Teams
Welcome to the Big East. Hopefully over the next few years you'll find your own local hangouts. I'd like to suggest this place for you to go to for starters:
Charley O's and Skybox Grill and Bar
It is located by the SW side of MSG, 416 8th Avenue at 31st Street. Phone # 917-351-0607.
DIVERSIONS
A
good website
that gives links to alot of touristy stuff.
Syracuse fan and NYC resident Swish gives us these insights:
"For something different, visit the Hudson Heights neighborhood. The highest point in Manhattan is at 184th & Ft. Washington Blvd. Take the A train to 181, take the north exit and elevator, directly across from the subway exit is the highest point. Proceed North on Ft. Washington Blvd to 187th st, take a left on 187th to see spectacular views of the Hudson River Valley and the George Washington Bridge. Continue North on Cabrini Blvd. to Ft. Tryon Park for more views of the Hudson, the site of a Revolutionary War battle, and the
Cloisters Museum
(a completely reconstructed French monastery). A ticket to the MOMA (Museum of Modern Art) will also provide entry to the Cloisters on the same day.
The New Leaf Garden
in Ft. Tryon has excellent food, is in an absolutely stunning park, and is affordable. Reservations reccomended. The adventurous may want to take a livery cab to the tip of Manhattan island (only a $6-7 trip from the Cloisters) at Columbia's Wien stadium. A trip into Inwood park will give you a chance to see Manhattan's only old growth forest, a truly impressive site. Keep an eye out for the site where Manhattan was purchased from an Indian tribe for a few trinkets. There is so much to see and do.
Broadway
Don't leave Manhattan without seeing a Broadway play. Tickets can be had for 20-40% off at the
TKTS booths
. Lady sports fans will love the (window) shopping in
Soho
. If your family immigrated to the US in the last century, a trip to Ellis Island may be extremely moving. The Statue of Liberty is always a lovely site. The best bargain shopping in the city is across from the WTC site at
Century 21
.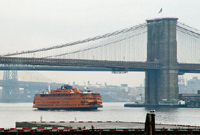 The Staten Island FerryEditor's Note:
If you are short on time and want to see the Statue of Liberty the fastest, cheapest way is to take the
subway Red Number 1
to the tip of Manhattan and board the Staten Island Ferry. The
Ferry
goes right by the front of Lady Liberty and affords great picture taking opportunities. The ferry ride takes about 30 minutes to Staten Island and you can walk out and take the return back to Manhattan. Take to "1" Line to South Ferry station walk outside and cross the street to the Ferry Building. Your ferry ride will be included with your subway ride.
The opinions expressed in this guide are those of TexanMark. While every effort has been made to ensure all the information presented is accurate and current, it would be wise to verify things when possible. Please note that this guide is not endorsed by Scout.com, Rivals.com or its site publishers, administrators and/or moderators.
Return to
TexanMark's Tailgate Guides
Main Page