"NOTE: CURRENTLY UNDER REVISION"
Morgantown
Click to enlarge
Image from
www.retirewv.org
This is one of a series of tailgating guides for ACC and eastern football schools written by Syracuse fan and tailgate aficionado TexanMark. If you have any feedback or additional information you think belongs in this guide, please drop an email message to Mark by clicking
here
.
First Things First: GETTING THERE
If you're a Pitt fan, finding Morgantown is easy and fairly painless. For the rest of us it is much more involved. The airfares into
Morgantown (MGW)
can be very expensive. Morgantown has scheduled service with United with daily flights to Washington DC (Dulles-IAD) on commuter aircraft. Probably the easiest way to fly there is to fly in and out of
Pittsburgh International
and rent a car.
For the rest of us, we drive from our homes. Here is a sample list of travel times by car: Pittsburgh 1 ¼ hrs, Washington DC 3.5 hrs, Cincinnati 5.5 hrs, Syracuse 7 hrs, Northern New Jersey 7 hrs.
This
link has some good directions
from the interstates. West Virginia offers a tremendous Football Game day environment. Since Morgantown is relatively small, the whole town is involved with the Mountaineers. It is very similar to how smaller cities within the SEC take to their teams.
From the
Regional Research Institute
: "WVU is easily Morgantown's leading employer. When school is in session, Morgantown's population jumps from 29,000 to 50,000. The city is located in the north central part of West Virginia, within 10 miles of the Pennsylvania border and 30 miles from Maryland. It stands near the corner of Interstates 68 and 79, but the more important intersection historically was the confluence of the Monongahela River and Decker's Creek."
Campus Info:
In order to gain an understanding of how Mountaineer Field sits in the Campus you must first become familiar with the two campuses. A good view of the
two campuses and the unique Personal Rapid Transit
(PRT).
Two Campuses: Downtown on left, Evansdale on right
--click to enlarge
Walnut Street PRT Monorail Station (Downtown Morgantown)
From the
Regional Research Institute
:
"The university's downtown campus lies on the northern edge of the city's small central business district, and a more striking setting for a university is hard to imagine. Dating to 1870, WVU looks like the Ivy League.
Campus streets lead uphill from downtown to hills and more hills. (After four years at WVU you not only would have a bachelor's degree, but Olympic-class leg muscles as well.)

At the crest of one landscape-dominating mound is Woodburn Circle, comprising three of the university's oldest buildings, which stand like three distinguished professors posing for a yearbook photo, overlooking the city and the Monongahela Valley.

In the 1950s, WVU ran out of room to expand, and a second campus - the Evansdale Campus - was initiated three miles to the north. Unfortunately, the Ivy League architecture stayed downtown. The new campus buildings are more functional and, well, dull. Except for the coliseum, it is on a hilltop is visible for miles. The coliseum looks like a concrete UFO. Saucer-shaped, big enough to hold 14,000 beings, it appears to be merely parked there, waiting for a call from its home planet.

(A WVU alumni friend, whose devotion to the university's sports teams is fanatical, insists that the true atmosphere of the university is revealed on any given football Saturday, when its Mountaineer Stadium is filled with 60,000 people chanting "Let's go, Mountaineers" and the prize-winning marching band performs.)
When WVU began operating two separate campuses, it needed a way to connect them. It was too far to walk, the hills discouraged bicycling and shuttle buses had problems on the narrow streets.

So in 1975 planners created the Personal Rapid Transit system, which is essentially a horizontal elevator. You put 50 cents into the turnstile (WVU students use a "Mountaineer Card") (Editor Note: the PRT is FREE on game day) and select your station, just as you would choose a floor in a high-rise. You wait for a yellow, electric-powered, rubber-tired car about the size of a soccer mom's SUV to sidle up to the platform. And off you go, even though there's no driver at the wheel - and there's no wheel.

The PRT system runs about nine miles from the medical center through the old campus to downtown. Most of the passengers are WVU students and staff, but anyone may use the system."
West Virginia University Main Campus
Game Day Tailgating/Parking:
Parking on Campus--
printable PDF
with comments
Like most big time programs the ability of visiting fans to park near the stadium is extremely limited. Unlike some other Big East programs tailgating is very common and fairly easy to do. The close in parking lots are the haven for the season pass holders and the well connected. Some people like to park elsewhere and then wander over to the Blue Lot for the vendors selling food. The Blue Lot used to be referred to as "the Pit" and was home to a lot of rowdies. WVU cracked down on the rowdy behavior a few years ago. It is much tamer now but instead of a concentrated area of rowdy behavior it has dispersed into lots all around. Morgantown unlike other Big East cities turns into a huge tailgate around the city. If you have a good sense of humor you shouldn't have any real problems. One way to make friends with the natives is to buy some
Pepperoni Rolls
and share them. These WV favorites sound like the perfect tailgate food as they do not require refrigeration. BTW, most of the rowdy students have moved to the nearby apartment complexes and other private lots.
The Party in the Parking Lot
Using the "KISS" principle (Keep It Simple Stupid), I suggest first time visiting fans park in the
free parking lots
surrounding the Basketball Coliseum. It is located about ¾ miles away from
Mountaineer Field
and is an easy landmark for visitors to find. RV Note for the Coliseum Parking Lots: There is now a $40 charge for RV's. But, that $40 fee is good for the whole weekend, Fri - Sun. RV's in coliseum parking must park in an area near the stoplight at Patteson Drive. There are
other free lots
at the Evansdale Campus if you want a spot with better shade (these lots surround many of the academic buildings southeast of the coliseum). The Coliseum/Evansdale Campus Shuttles run continuously, starting about two and one half hours before kickoff and of course run after the game. The roundtrip cost is $4.00. WVU provides you
a list of rules and suggestions
to make your trip to the stadium stress free.
From the Official MSN WVU Website
2011 Football Parking Information

MARSHALL GAME PARKING: At 8 a.m. on Saturday RVs can enter the Coliseum and Blue general RV lots. At 3 p.m. the front row Blue, Light Blue, Green and Red lots will be open and RVs must be out of the lots by noon on Monday. Lots will not be open for cars until 7 a.m. on Sunday morning.

Parking policies now in effect

- All lots are open for cars at 7 a.m. on game day. Any car left in the lot the day before the game with a parking pass will be towed.

- The Green lot (off Van Voorhis Road) opens at 3 p.m. for RVs the day before the game and a single-game RV pass is $115. The Green lot opens at 7 a.m. for cars. Bus parking is available in the Green lot for $80. Recreational vehicles who don't have a season pass should park in the WVU Coliseum lots. The White lot, located off of Oakland St., will accept game-day passes for $40. This is a car-only lot.

The new parking garage will also be available to Green lot users for $40.

- The Burgundy Lot and the Purple lot (Areas 52 and 61 behind Sheetz on Route 705) will have limited spaces available to purchase single game parking passes. Passes wil be sold for $20, and the Burgundy and Purple lots are car-only lots.

- Small tents may be erected in designated areas only and may not be larger than 12' x 12'. A parking permit for the designated lot is required to erect a tent and the vehicle must be parked adjacent to the tent. Tents may only be erected after 7 a.m. on game day.

Recreational vehicle parking

- Lots open for recreational vehicles at 8 a.m. in the general Blue and Coliseum lots; Front Row, Red, Green and Light Blue lots open at 3 p.m. on Fridays prior to Saturday home football games.

- Recreational vehicles are 20 feet or longer. Vans are considered cars.

- Trailers are permitted in the Red, Green and Coliseum lots only.

- Car passes may not be upgraded to RV passes.

- RV passes may not be used for cars.

- RV parking at the WVU Coliseum is now $80 in designated parking areas only. RVs parking at the WVU Coliseum will be issued a special pass when arriving and upon receiving payment.

- All RVs must now be parked two hours prior to kick-off.

Other Parking Information

- Parking pass is not valid for limousines.

- Free parking is available in the lots adjacent to the WVU Coliseum. A shuttle service to the stadium is available for $4 round trip.

- No tent can be erected in parking spaces or in such a manner to impede the flow of traffic. Open fires in the parking lots are also not permitted.

- Parking passes are limited to one space per pass. Tailgate gatherings are not permitted to overflow into adjacent parking space and/or drive lanes.

- Parking by Ruby Day Care Center or anywhere on Hospital Drive will require a pass. All cars without a pass will be towed to the Prete Building at owners expense.

- Games involving the consumption of alcohol are not permitted in any of the University-operated parking lots.

- Fires are not permitted in any of the University-operated parking lots.

Handicapped Parking

- Handicap parking is available for single-game purchase ($30) on a limited basis at the WVU Law School (Brown Lot). Handicap-accessible vans will provide transportation from the Blue and Brown lots to the stadium gates.

- A handicap-accessible shuttle bus will provide transportation to and from the WVU Coliseum at a cost of $4.

- Handicap parking will require the following admission to the appropriate lot:

- WVU issued color-coded parking permit

- Valid state-issued handicap parking placard or license plate

- Valid state-issued handicap parking registration card

- Photo ID of the handicapped permit holder (the photo ID must match the handicap parking registration card and permit holder must be in vehicle)

- Handicap permit holders will be required to park in the spots reserved for handicap parking only. This will be strictly enforced.
If you arrive early ('eers start early-- 7 am for an afternoon or evening kickoff is considered normal) and want to get in a WVU lot closer to the stadium you can try the Burgundy or Purple Lots:
NOTE from the MSN Website
: "- The Burgundy Lot and the Purple lot (Areas 52 and 61 behind Sheetz on Route 705) will have limited spaces available to purchase single game parking passes. Passes wil be sold for $20, and the Burgundy and Purple lots are car-only lots.
" The
University's sports website
states, "Private Parking (not affiliated with WVU): is available for a fee at several locations along Patteson Drive, Van Voorhis Road, W.Va. Route 705, University Avenue, Don Nehlen Drive, Willowdale Road and other areas near the stadium." Two suggestions: The first one is located across from the Kroger Grocery Store on
Patteson Ave
. It is a strip shopping center (Rite Aid, Boston Beanery Restaurant and Radio Shack). Expect to pay about $10-20. You can obviously get beer and other tailgate supplies at the Kroger. The
White Birch Office Tower
is located north of the stadium at 1255 Pineview. Parking costs about $10.
A
very good article about the West Virginia Game Day experience
was written by a Washington Post reporter a few years ago. Tailgating in its finest form is found in Morgantown, all Big East fans need to circle this game on their calendar to do. One last option is to park in downtown Morgantown and ride the PRT. The PRT will take you the PRT Health Sciences Center Station which is about 1/4 mile north of the stadium.
Low Hassle Shuttle Alternative
The
Mountain Line Transit Authority
(click on Football Shuttle link on right side at MLTA website) provides shuttles to all WVU Football home games. Shuttle buses pick up passengers at the lower entrance to
Mountaineer Mall
(5000 Greenbag Road Morgantown , West Virginia 26501) . Cost per passenger is $3.00 round trip, children 5 and under ride free. Shuttles will begin two hours before kickoff. The return trips will begin at the start of the fourth quarter and run for one hour after the game.
More notes from their website: All Buses are fully accessible to persons with mobility impairments. Parking is free at the Mountaineer Mall. Buses run every 10 minutes to the game. Buses operate return trips beginning at the start of the fourth quarter and run for one hour after the game. Buses load and unload under Ruby Hospital Canopy (a short walk north of the stadium). Accessible buses are available for transport from the Blue Lot to both East & West Gates (please notify shuttle driver of your needs)
Mountaineer Field
The Big East's Largest Crowds are here!
Milan Puskar Stadium
has been around since 1980 but has been enlarged and modernized.


TAILGATE SUPPLIES
The closest places to pick up tailgate supplies:
Kroger Grocery Store
on the west side of the stadium (350 Patteson Ave). It is open 24/7. On the north side of the stadium is a
Sheetz Convenience Store
on the north side of the stadium. On the west side of town in Granville is a
WalMart SuperCenter
.
Scalpers and You:
From the
University website
:
The scalping of tickets on University property is forbidden. Violators are subject to removal from University property. No solicitation of any kind is permitted in the parking lots or stadium. Individuals discovered soliciting will be asked to cease or will be removed.
You have been warned.
Scalping tickets is illegal in WV. Reality is it is tolerated around the stadium on gameday. The blue lot(the lot located between Puskar Stadium and Ruby Memorial Hospital) is very popular for ticket selling. Another place for scalpers is on Patteson Drive. The road runs between the Coliseum and the stadium. You can find scalpers there with signs.
Since buying/reselling tickets is illegal in WV you can save this for future use at other locales. A few tried and true techniques to get the best price buying I have used: 1. Know what a legit ticket looks like 2. Buy from your own fan base first 3. The smaller the group the smaller the price--single tickets are cheapest 4. Prices usually peak 1-2 hours before kickoff--inside an hour the closer to game time the cheaper the ticket, right after kickoff they plumment to near nothing 5. A fan walking to the stadium in with a group of friends and still holding extra tickets to sell will usually dump them for a cheap price (they do not want to miss the game and often they are doing a favor for a buddy to sell them) usually you'll spot them holding a finger or two out to their side or over their head or saying selling one, etc... 6. If you have to deal with a professional scalper--NEVER give him what he asks, have a seating chart with you, check to make sure all tickets are really together and for that game, offer him lower and be prepared to walk away, after you turn and walk away more than half the time in my experience they'll give in and take your offer, if you can afford to wait...wait inside 20 minutes to kickoff as see the prices drop (assess the situation for the number of tickets available, how many you need before employing that strategy) 7. Don't be embarrassed to go back to a scalper to buy ticket(s) 10 minutes after you said no to his previous offer 8. Don't fall for their tactics to make you feel like you're ripping them off by only offering $20 a ticket, etc...they love to play games with your self-image and ego.
Finally, be sure to visit Larry and his crew and say hi at his
WVU tailgate website
.
'Eers Know How To Have Fun On Saturday!
LODGING:
Like most small towns it will be next to
impossible
to
find a room
if you look a week out. If you are a fan of
historic, restored hotels
Morgantown has the Clarion Hotel Morgan. It is within walking distance of the PRT. The
Hampton Inn is very close
to the stadium and might be a good option if you get lucky with a reservation. The
Residence Inn
by Marriott opened in 2006 and is also very close to the stadium but it sells out quickly. And a newly renamed 16 story
Waterfront Place Hotel
(nee Radisson) has opened in the Wharf District downtown. New to 2009 is a
Microtel Inn
near the Mall. Recent new additions are the
Hilton Garden Inn
in the Suncrest Town Center and the
Fairfield Inn and Suites
near the University Town Centre. Your best resource is to use
the local visitors' guide
. Last resort if you strike out, try looking for some
"Mom and Pop" Motels
near Morgantown.
Waterfront Place Hotel
If you decide to travel to Morgantown at the last minute: first see if you can find any cancellations at the motels in Morgantown. If you strike out, you'll need to try outlying areas.
If you are
traveling in from Pittsburgh and points north and east
try these three cities:Washington, PA for
motels
, Waynesburg, PA for
motels
, and Uniontown, PA for
motels
.
If you are
traveling from the south or west
try these cities: Fairmont, WV for
motels
, Clarksburg/Bridgeport, WV for
motels
, and Wheeling, WV is another option for
motels
for those coming from the west as well as Washington and Waynesburg, PA.
DINING:
Almost all restaurants and pubs close to campus are going to be packed to the brim on a football weekend...so so enjoy the scene and have patience.
If you want to go somewhere not to far from the stadium that is a traditional haunt of WVU students/alums...I would suggest....
Crockett's Lodge
The
Boston Beanery II
near intersection of Patteson Dr. and University Dr. has a varied menu, lots of fans and reasonable prices. Expect to have to wait to eat. A few blocks north of the Wharf District in downtown is
Morgantown Brewing Company
. Morgantown's only brewpub is located at 1291 University Avenue phone(304) 296-BREW. A comprehensive list of bars is
here
. One
final website
gives you some great options for food and drink and shows you where the bar specials are and
menus
for lots of restaurants.
For older readers who don't want to get caught in the hustle and bustle of the students...I would suggest
Colasantes Ristorante & Pub
...this is a place is just west of Morgantown (in the city of Westover) and is very close to both I-79 and I-68. If you want a more upscale place....I would suggest
Oliverio's Ristorante
....this establishment is located on the beautiful new wharf district in Morgantown overlooking the Monongahela River.
Tailpipes
opened in early 2010 and features gourmet burgers and old fashion shakes.
Dragonfly Sushi
offers much more than just Sushi in an elegant environment.
Yesterday's Bar & Grille restaurant
has an upper-casual dining atmosphere. Other restaurants can be
found here
. BTW, you can limit your searches on this website to various neighborhoods of Morgantown.
SPORTS BARS
:
Kegler's
is a sports bar near the campus,
Buffalo Wild Wings
is known for their duh, wings, and also lots of TVs carrying all the college football games.
The Sports Page
has ESPN Gameplan and looks to cater to a younger crowd. The
Varsity Club
is very close to the stadium and has an awesome baked Italiano Sandwich. Another gem is the the
Brick Yard Pub
. Finally,
Damon's
, on Hwy 705 about 1 1/2 miles from the stadium, is known for their ribs as well as their full offerings of sports programming.
Shopping:
Morgantown has
University Town Center
which has a typical assortment of big box retailers and trendy shops found in newer suburbs around most cities. It is located next to Star City/Osage--Exit 155 I-79 on Highway 19.
Morgantown Mall
is located across I-79 from University Towne Center. It looks to have a nice selection of retailers. If you are in search of chain restaurants you can find them in this area.
Things to Do:
If you happen upon Morgantown during the changing of the colors you need to checkout nearby
Coopers Rock
. It is the largest and most visited state forest in WV.
Cooper's Rock
A
real nice website detailing
all your outdoor types of things near Morgantown should keep you busy.
If you prefer to stay in town,
the trolley
is a great way to see Morgantown.
Whitewater rafting
is great in West Virginia. If you are adventuresome, consider going on a river rafting tour on the New River or The Gauley if you have an extra day, they are several hours away. If you don't want to travel as far try the
Cheat River
or
Youghiogheny River
.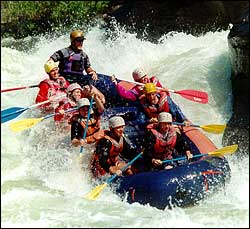 White Water Rafting on The Gauley
Morgantown is revitalizing an old area of their town into the "
Wharf District
". You can see the orientation of the Wharf District to downtown Morgantown
here
.
Wharf District
GOLF:
There are some great courses in West Virginia, including the
Pete Dye Golf Club
in Bridgeport (about 30 mins south--rated the top course in West Virginia and one of the top 100 golf courses in the US by Golf Digest) and the
Greenbrier Resort
in White Sulphur Springs. Note that White Sulfar Springs is 3 1/2 hours south of Morgantown near Exit 181 off I-64. Lucky for all of us--a very nice course with lodging is located in
Morgantown
. The Lakeview Resort might just be the perfect solution for a golf and football getaway.
The Lakeview Resort
Pete Dye Club
There are a number of golf courses the Morgantown Area. Here is a
list.
The
Mountaineer Golf & Country Club
is a public course for the golf challenged and/or budget minded. It is a short course that is relatively flat and inexpensive. You should be able to walk this course for less than $20, even on weekends.
Hope this helps. Thanks to WVURON and Jackson1011 for helping me with the guide.
The opinions expressed in this guide are those of TexanMark. While every effort has been made to ensure all the information presented is accurate and current, it would be wise to verify things when possible. Please note that this guide is not endorsed by Scout.com, Rivals.com or its site publishers, administrators and/or moderators.
Return to
TexanMark's Tailgate Guides
Main Page