Syracuse Looking Towards Onondaga Lake from Mount Olympus
--click to enlarge
This is one of a series of tailgating guides for Big East football schools written by Syracuse fan and tailgate aficionado TexanMark. If you have any feedback or additional information you think belongs in this guide, please drop an email message to Mark by clicking
here
or make a comment below.
NOTE:
I have populated a map found
here
with most of the places talked about here (be patient it might take 30 seconds to load). This wonderful website has informational maps on most major colleges. Check it out
http://www.mapgameday.com
First Things First: Getting There:
Syracuse is the northernmost school in the Big East (Football schools). It is a relatively short trip from Rutgers and UConn (each about 3.5 to 4 hours). Other schools within a reasonable drive for a weekend game are 6-7 hours away (Pitt and WVU). Cincinnati and Louisville are too far to drive to unless you have 3 days or love spending the weekend in a car.
Flying into
Syracuse
is fairly easy. It is a decent sized airport but beware that some of the airfares can be artificially high. The airport has a proposed and much needed renovation coming in the next few years. Jet Blue generally has the lowest airfares and have helped a lot to lower airfares into Syracuse. However, airlines like Delta, American, USAirways, and United often will meet or beat flight rates into Syracuse from Jet Blue Destinations. The airport really needs Southwest and AirTran to offer better fares. If you are flexible flying in/out of nearby airports (both origin and destination) you can save 100's of dollars. If you are going to rent a car you might want to check into flying in/out of
Albany
,
Buffalo
and
Rochester
(all are within 2 hours of Syracuse) for lower airfares. Southwest serves Albany and Buffalo while Air Tran serves Buffalo and Rochester.
NOTE: Airfare differences between various Upstate NY cities can vary by 100's of dollars.
The Syracuse airport is about 5 miles north of the downtown/university areas, many local motels will pick you up in their courtesy shuttles if you want to avoid renting a car. The great thing about Syracuse is 500,000 people live in the city and suburbs but you are never more than 10-15 minutes from anything. Obviously, if you have an extra day or two you might want to check out
Niagara Falls
,
Turning Stone Casino
,
Cooperstown
and the World Famous Baseball
Hall of Fame
,
Thousand Islands
or the
Finger Lakes
wineries (all are within 2 ½ hours of Syracuse). A national travel writer recently named the Finger Lakes and the 1000 Islands in the Top 10 of all Lake Districts in the world! Cruising famous
Skaneateles Lake on a boat
, Note: World Class
Salmon fishing
is just 40 minutes north in
Pulaski
. If you really want a special trip try mixing in fishing and stay up in
Pulaski for a few days
and check here first for anything you
forgot
. A
few more suggestions
. Finally, something for the kids close by.
Big Don's Wild River
is less than
15 minutes
from Downtown in Cicero. If you are driving north on I-81 the
Greek Peak Resort
offers both an indoor water park, motel rooms and other outdoor activities. It is about 45 minutes south of Syracuse.
Turning Stone Casino--Oneida Nation
The
train station
and bus station are co-located about a mile north of downtown and it is a short walk (under an I-81 overpass) to the huge
Carousel Shopping Mall
. You can catch a bus or cab from the train station to the university.
The Travel Masters
A Syracuse Fan Friendly Travel Agency
The Travel Masters is a Syracuse Area Travel Agency that understands what you need in a travel agent for the Syracuse University sports fan. Call Jeff or any of his professional staff (315-768-4161) to receive personal attention for your next trip. Jeff is a life long Orange fan and will work with you to maximize your fun and minimize your hassles for your next Syracuse game, business trip or vacation. Let them know you are an Orange fan and tell them him what is important for your Cuse trip. You'll be confident in knowing they'll understand your particular trip requests.
The Travel Masters is located in the
Colonial Center, 131 Oriskany Blvd. Whitesboro, NY 13492
Game Day Parking/Tailgating:
Finding the Carrier Dome is fairly easy. It sits just east of downtown and is perched on top of a hill overlooking the city. However, the University provides a
nice overview
and has it broken down to the three main parking areas. Read below to see which set of directions you should use.
The Syracuse tailgating scene is one of lots of small tailgates spread throughout the campus. This is due to the Carrier Dome being built in the middle of a cramped campus with little close by parking. If you are a visiting fan you can find tailgating/parking options in the University area but it will be mostly by private vendors.
NEW FOR 2010: Free WiFi
The University is rolling out
free WiFi around campus
. It has not covered all the lots yet but it might be worth checking the
link for hotspots
. Wireless access is available for guests with laptops and hand-held devices. AirOrangeGuest provides unsecured access and available on a temporary basis.You need a text enabled cell phone and of course your computer. Hopefully you'll be able to stream some ESPN3 games while tailgating.
The Main Campus
Click to enlarge
A
link with interactive maps
of all the Campuses
Suggested areas to look:
Check the fraternities/sororities on Walnut, parking garages (Sheraton Hotel, a few others can be found around Crouse and Irving Avenues a few blocks north/west of the Dome), and private residences. Expect to pay about $5-20 to park. BTW, I found a
$5 lot
near Adams St
north of the Crouse Irving Hospital
which sold out about two hours prior to kickoff. If you are lucky enough to have a connection there are
several nice lots
near the Dome for parking/tailgating but require a permit (based on donation level). All of the lots owned by the university close to the Dome are permit only. The Stadium West Area (the lots just to the west of the Dome in the direction towards I-81) is particularly in high demand
PARKING TIP:
Syracuse started in 2009 printing individual parking passes for these premium donor lots. Each game has a separate pass you hang from your rear view mirror. It makes it real handy for someone who isn't going to the the game to let you use a pass for a specific game. The school says they are not transferable but it isn't enforced.
PARKING TIP

: If you decide to try your luck with on street parking in the Stadium West area (west of the Dome, streets between Dome and I-81) you need to arrive at least three hours early. If you find a space open and you aren't blocking a driveway or too close to an intersection or fire hydrant park there. Bottom-line: parking is only allowed on one side of the street. They will ticket and tow. THE SWITCHOVER IS 6PM AND THEY USUALLY TAKE NO PRISONERS. PARKING TIP: If the kickoff is at 3:30pm the Syracuse cops should allow you to park past the 6pm switchover if you leave quickly after the end of the game. Just be sure to ask a nearby cop to double check they are still are allowing a short grace period after the game end. If you have a small tailgate crew you (as a visitor) shouldn't have a problem tailgating in the stadium west lots. Fans actually set up small tailgates on the strip of grass between the curb and sidewalk. Just don't set up in the prime spots in the lots as regular Cuse fans might raise a stink. Another spot to park within walking distance of the stadium west tailgate lots is to park under the I-81 overpass. There are tailgate lots under I-81 on Almond Street for $10 (you need to be in good shape as you have to walk up a hill to get to the Dome or Stadium West parking lots). The lots are filled with tailgaters.
A nice
printable map
shows the permit parking lots as well as the non permit day game lot at Skytop. To reiterate: best advice is to arrive 3-4 hours before kickoff and scout around for a spot. If you have a noon kickoff show up by 9-9:30am and you should be okay.
PARKING TIP
: The university does offer two parking garages for game day parking without a permit. University Ave Garage and Booth Garage are available but are expensive($20) and most important be sure to ask when they are closing--I have heard they close 2 1/2 hours after the end of the game, be smart and ask the attendant. See link above for locations. Additionally there are a few other parking garages in the area. The one
just south of the hospital
complex along Irving Avenue charges $15. The Sheraton Hotel garage also allows game day parking for about $20. If you park at a parking garage obviously take a spot on the roof. Don't even try cooking with propane or charcoal in the garages. You are smart to send a scout out early to claim a spot. For 12:00 kickoffs you should be able to find a decent spot as late as 9:30am. For 3:30pm or evening kickoffs you should arrive 3 hours prior.
Urban Tailgating Syracuse Style
PARKING TIP:
Okay I came upon another lot. It is tailgate friendly. However, you will need to walk a few blocks away for a bathroom. It is at the NW corner of Irving and Harrison. Enter on Harrison,
about 100 feet down the hill on the right side from the Irving/Harrison intersection
. Harrison (one way down the hill to I-81) allows a fast escape to the interstate highways.
The University recommends visitors without passes to park at Skytop,
this map
will give you a good overview of where it is in relation to the main campus. It is located about 1 mile south on Comstock Ave. from the main campus
just past Manley Field House
.
Shuttle buses
are available and free and run continuously two hours before football games from both Skytop and Manley. Out of town RV'ers will have to park at Skytop. (The Henry Lot in Stadium West Area for RVs and Buses is forever closed due to new student housing)
Here is a visual look at the Skytop area
. I have been told RV's can park at Skytop the night before the game. You should call parking services to check though. Tailgating out at Skytop is good but it is usually mellow with smaller tailgate groups. It is usually the most popular area for visiting fans to go to. The disadvantage is you need to take the shuttle to the game. It is about a two mile walk but it is a scenic walk on a nice day. Expect to pay $10 to park a car at Skytop. Bottom line: if in doubt before game day
call the parking services department
on campus for more info.
CENTRO Bus Service
:
CENTRO (the local bus company)
offers several great
options
from different parts of the city. Out of Towners if you find yourself staying near the
Great Northern Mall
(I-481 and SR 31) in Clay (North Side) or
Wegman's Grocery Store
in Dewitt (near I-481 and SR 5 on the east side) this could be a handy stress free option. They also provide this service for
basketball
games.

Sharkey's Dome Shuttle
"Sharkey's Orange Machine"
shuttle bus offers stress-free round trip transportation to and from The Carrier Dome. In fact, it's going to be a tailgate party on wheels, hosted by your cruise director, "Toot The Tangerine" (otherwise known as Mandy). It's only $5.00 and your first beer or soda inside the bar is included in the price! The EARLY bus leaves 70 minutes before kickoff/20 minutes after the game ends, and the GAME TIME bus leaves 20 minutes before kickoff/70 minutes after game ends. PLEASE NOTE: The "Game Time Bus" riders may…or may not be…at the Dome in time for kickoff. It all depends on the traffic and if all passengers are ready to board on time. Sharkey's is located about 5 miles north of the Dome in Liverpool.
ARMORY SQUARE PARKING/TAILGATING (Alternative)
NOTE: As of March 2008 the Orange Express Train Service was discontinued. The good news: merchants around Armory Square are running buses from Armory Square to the Dome.
Okay so no train. You can still tailgate downtown and take a shuttle bus from Armory Square. Armory Square is a fabulous area of entertainment choices about 1.5 miles away in Downtown Syracuse. It literally was a decaying old warehouse area that was rejuvenated in the last 15-20 years.The local bars and restaurants are running a free shuttle buses that leave from
Walton Street
in the heart of Armory Square. They start bus service 40 minutes before kickoff and go until 20 minutes before kickoff. After the game go back to the same spot you were dropped off at and take the bus back. IT IS FREE!
The merchants hope you party before and after kickoff with them. I would certainly stop in and give them some business. However, if you want to tailgate find a nearby parking lot and go for it.
NOTE: As of September 2011 the Trolley Lot will be closed up to two years for a major environmental project.
The Trolley Lot is large and RV friendly. Enter through a tunnel off the circle around the MOST Museum.
Look for the tunnel under the train track here to the Trolley Lot (Use the streetview option to get a picture).
There was free parking there during the day last year. I expect it the same this year. Night games you might have to pay $5.
I can't vouch for how the tailgating is downtown anymore since the train left and I tailgate in Stadium West now. However, it is okay to tailgate in the lots downtown. If you park at the Trolley Lot or any of the other nearby lots in the Armory Square Entertainment area you should some others doing the same. Here is a
map of all the parking downtown
.
Be sure to visit
PJ's Pub and Grill
and
SyracuseSuds
and say thanks for the buses.
The Carrier Dome Switched To FieldTurf in 2005

The Carrier Dome in Basketball Configuration
Over 34,000 fans attended games before here.
Tailgate Supplies
:
Sporting My New Cuse Flag
From College Flags and Banners
New to 2010 are great tailgate products offered to my readers...BTW, you get a 10% discount.
College Flags and Banners Co.
is the ultimate source for your tailgate. They offer a huge selection of college flags and banners including: Army, Cincinnati, Connecticut, ECU, Louisville, Memphis, Navy, Penn State, Pittsburgh, Rutgers,
Syracuse
, USF, and WVU. Plus everything else you need for game day, from
tailgating flagpoles and wheel stands
to
conference pennant sets
. All products are officially licensed and ship within 24 hours. Order today and relieve 10% off your order by typing in coupon code "MARK10" at checkout.
If you are looking for more than just college try their sister company.
Other Sports Flags:
Sports Flags and Pennants Co.
is the premium source for all of your NFL, MLB, NBA, NHL, and NASCAR flags and pennants. Fast, secured shipping to your doorstep and all products are officially licensed. Through our site we are offering a coupon code for 10% off your order. Just enter "MARK10" at checkout.
NOTE: In New York State you can buy beer in grocery stores but hard liquor and wines are sold in liquor stores. There is a movement to change this but I expect 2010 will still be the status quo as NY politics is well NY politics. Obviously the Huge 24/7
Walmarts (this one isn't a Super Center but it is close to the liquor stores mentioned below)
around town offer good selection of tailgate supplies and beer. If you are already situated at your tailgate and need a few items try these places (all are within 10 mins of the campus): The
Party Source
(fairly extensive beer selection) at 2646 Erie Blvd., Phone: (315) 446-8281 but the place has mixed customer service reviews. The biggest and closest liquor store is also out near the Party Source. Pascale's
Liquor Square
has a huge selection of liquor and wine.
Brilbecks's
has an awesome selection of craft beers. They are in the Tipperary Hill section of Syracuse (about 1.5 miles west of downtown). If you go to Brilbeck's I suggest stopping by Coleman's for lunch or dinner. The closest Full Scale 24 hour Grocery Store is
Price Chopper
at
2515 Erie Blvd., Ph 315-449-2314.
. If you want to shop the best Supermarket Syracuse has to offer try the
Wegman's Chain (this one is about 10 mins from the University
. They have a very loyal following on the east coast. NOTE: Allow an hour to shop here--once you enter you get sucked in and don't want to leave. LOL
Money Saver Tip
: Wegmans, Price Chopper and the Top's(nee: P+C) Grocery Stores in Syracuse use loyalty cards. P+C Grocery Stores underwent bankruptcy in 2009 and Top's Super Markets took them over. They converted all the stores over to the Tops name in 2010. If you are a one time shopper usually if you ask a person in line they'll let you borrow their card to swipe for the discounts or the checkout person sometimes will swipe a card for you.
If you can't drive and are tailgating on/just off campus and need some beer/food. The closest walkable place is a
Quickway Food Mart
at 701 Crouse and Adams, Ph 315-475-0900 (about a block north of Marshall Street Ticket Scalping Area). They offer a limited selection of beer and some food stuffs.
CARRIER DOME, TICKETS and SUCH
Tickets are a buyers market right now in Syracuse. The Dome's capacity is just shy of 50,000 but the last few years have seen crowds of around 35,000 for most games. There hasn't been a sellout in many years. I don't expect it to change until the Orange start consistently winning again. The 2010 season saw 8-5 with a Pinstripe Bowl victory and excitement is growing but I still expect a buyers market in 2011. The school offers
Internet purchasing
of tickets. Single game tickets usually go on sale each August. They are doing both "print at home" and traditional mailing of tickets. If you arrive without tickets the best place to buy tickets are near the intersection of Marshall and Crouse, the walkway between the Quad (near Hendricks Chapel) and the Dome or the area surrounding the parking lots just west of the Dome. New York appears to be relaxing the rules on scalping tickets so the Police shouldn't bother you as long as you don't buy on the sidewalks next to the Dome. The actual rule appears to be within 1500' of the Dome. They
arrested a few scalpers in March 2010
for the NCAA Basketball Regional. For Syracuse Football games they don't usually seem to be arresting but just stay away from the areas directly surrounding the Dome.
A few tried and true techniques to get the best price buying: 1. Know what a legit ticket looks like 2. Buy from your own fan base first 3. The smaller the group the smaller the price--single tickets are cheapest 4. Prices usually peak 1-2 hours before kickoff--inside an hour the closer to game time the cheaper the ticket, right after kickoff they plummet to near nothing 5. A fan walking to the stadium in with a group of friends and still holding extra tickets to sell will usually dump them for a cheap price (they do not want to miss the game and often they are doing a favor for a buddy to sell them) usually you'll spot them holding a finger or two out to their side or over their head or saying selling one, etc... 6. If you have to deal with a professional scalper--NEVER give him what he asks, have a seating chart with you, check to make sure all tickets are really together and for that game, offer him lower and be prepared to walk away, after you turn and walk away more than half the time in my experience they'll give in and take your offer, if you can afford to wait...wait inside 20 minutes to kickoff as the prices drop (assess the situation for the number of tickets available, how many you need before employing that strategy) 7. Don't be embarrassed to go back to a scalper to buy ticket(s) 10 minutes after you said no to his previous offer 8. Don't fall for their tactics to make you feel like you're ripping them off by "only offering $20 a ticket", etc...they love to play games with your self-image and ego.
The Dome mostly has aluminum bench seating (without backrests) and it is very easy to improve you seating into vacant areas. If you buy your tickets through your own University you should expect to be in the corner of the endzone near Section 111.
Click here
for the seating chart and
here for what your view
will look like. Normal questions about what you can bring into the stadium, where is disabled seating, etc...can be
found here
. Concessions include Beer (sales end at the start of the 3rd Quarter) and the normal food fare. I was told there is a better selection of beer on the first level. If you get a Dome Dog make sure it is Hoffman Brand. Concession prices are fairly cheap compared to those at some other Big East Stadiums. Beer is about $5 for 16 ounces.
A FULL DOME--aka "The Loud House"
LODGING (Close):
Note:
The local
Syracuse Visitor's website
a good place to help you find addresses and phone numbers for businesses. If you have waited until summer or fall for football weekends the rates around the Dome will be high (local motels traditionally jack up the rates even higher for Parents Weekend over a standard football weekend). Bottom line, if you have a car and want to save money you should look to the suburbs or outlying towns (Clay, Auburn, Cortland, Tully, Oneida, etc...). Note: If you are in dire straits for lodging try this
website
for some "Mom and Pop" motels. I like the convenience of being near the Dome and usually stay Downtown or near the campus. If you are flying or taking the train in for the game most of these hotels listed below will pick you up at the Airport/Train Terminal via Courtesy Shuttle.
I've compiled a list a few places below that all have proximity to the Dome, you can walk to them all or take a Bus from Armory Square on game day.
Downtown/SU Area Lodging
Hotel Skyler
The Newest Hotel on the University Hill
Hotel Skyler
is a gem and just opened in 2011. From the hotel website,
"Hotel Skyler is an eclectic boutique hotel located at the epicenter of the Syracuse University campus. Once a former temple and theatre, this lovingly reclaimed gem boasts 58 expertly appointed guest rooms that mix cutting-edge technology with artisan details for an inspiring and invigorating hotel experience.

You've never been anywhere like Hotel Skyler. In the serene and welcoming lobby, industrial minimalism meets soothing organic comfort. Retro and metro mingle cozily in one-of-a-kind guestrooms. From the moment you check in until you reluctantly say goodbye, you'll know you're somewhere special – somewhere designed to nurture the spirit and the planet. You're at Hotel Skyler, Syracuse's first LEED Platinum Designed hotel."
This hotel is awesome if you want to walk to everything. Tailgating is easily done from here too.
Parkview Hotel
: A new boutique hotel opened May 2005. It is related to the Genesee Grande property a few blocks away and mentioned below. Bottomline: it is reasonable (mid 100s) and close (about 5/8ths mile away to the Dome). All rooms feature custom fabrics, bright living spaces and flat-screen LCD TV; extended-stay suites also have kitchenettes. The Parkview also provides voice mail, speaker phone, high-speed Internet access and a 24-hour on-site business center with administrative support. Local phone number is #315-701-2600 (you might be able to get a better discount by calling) and they do provide a courtesy shuttle.

Crowne Plaza
, In 2010 it converted to a Crowne Plaza. It was a formally a Renaissance in 2007. A few years prior to that it was the The Marx Inn. Originally it was built around 1979 and was a Holiday Inn for many years. Many name changes but this hotel is a far cry from the mid 90's when it still looked like the old Holiday Inn stuck in the 70's. It is in my opinion a very good value among the upscale hotels near the campus. Located about 5/8 mile from the Dome. Nice on-site restaurant. The place is very clean. Rooms are around $150-250. I have heard
Redfield's
is a great restaurant and located in the hotel.
A very nice point is the free covered parking lot.
Note: If you ask, you can get complimentary shuttles.
A View From the Crowne Plaza
click to enlarge
Genesee Grande Inn
They recently did a major renovation--it is just beautiful. It is about 1/2 mile walk to the Dome on the north edge of campus. The pricing varies from the mid 100s and up (Suites). Valet parking is available. The restaurant has received good reviews. In fact the 1060 Lounge offers their famous Syracuse #44 Burger on game day as well as drink specials. This place sounds real good if you are bringing your wife. Be advised the neighborhood turns dicey about several blocks away east or north.
Sheraton at the University
This is the place to stay if you want to soak up the college experience. It is literally steps from the Dome. It has been extensively renovated in 2011 and looks gorgeous. I always run into somebody famous there on game day. The downside is it is expensive ($200+ a night) and most football weekends will book up early. On game day it has a lot of people mingling and the Hotel sets up a tailgate (fee to get food/drinks) outside for guests and visitors alike.
Sheraton at the University
the closest Hotel to the Dome
Closest (Upscale) to Armory Square/Bars:
Jefferson-Clinton Hotel (nee Hawthorn Suites)
at Armory Square This is my favorite place but that is the problem, it is also with others and is usually booked. The Hotel is across the street from the Trolley Lot and within staggering distance of all the bars at Armory Square. It is amazing what they did to the old Jefferson-Clinton, a one-time "flea bag" hotel in the 70s. If you get lucky with reservations expect to pay $150+ a night for a Queen Euro. Suites are $225+. A hot breakfast buffet is included. Free parking is outdoors in a contracted lot, valet/concierge services available.
Econolodge
(2 star quality) on James Street is usually the cheapest choice: Obviously, the benefit is you can get a room (they are clean) usually for around $80-100 with a breakfast and TV/Fridge/Microwave. Lately, the hotel has been jacking up the rates for some games. IMHO, it isn't worth paying $120+ for some of the games. It is about a mile walk to the Dome and about a half mile to Armory Square. They do provide courtesy shuttle to the airport and other locales. The downside is the distance to the Dome and it is near St Joseph's Hospital. You'll hear the ambulances. Be advised there are some street people in the neighborhood but the area is as safe as you can expect for an urban downtown environment. The Parking Lot is secure and well lit and the manager lives on site. This is a great place to go with a bunch of guys--probably not the family. I have stayed here several times in the past and have never had a problem.
One other option for those on a very limited budget is the
Hi-Downing Hostel
about 1 1/4 mile from campus.
LODGING (5-15 minutes away)
There are quite a few motels in the
Carrier Circle
area. This area is about 3 miles northeast of the university near the Thruway (I-90, exit 35) interchange by the same name.
Another area is around the intersection of
I-81 and I-90. The 7th North area
also has several options. Two independent motels here are worth checking out. The
Maplewood Inn
and the
United Inn
sometimes will offer much cheaper rates but still are well maintained properties. A real bargain can usually be had at the
Econolodge near the Airport
. The property is nearly new and clean and less than 10 minutes from the campus and real close to the next two suggestions. Two newer hotels are a
Candlewood Suites
and a
Holiday Inn Express
located about 5 miles N of the Dome at the entrance to the Airport on South Bay Road. I recently stayed at both the Holiday Inn Express Airport and the nearby Econolodge and was quite pleased. They both were very clean properties only about 3 mins from the terminal and very close to several restaurants. They may have rooms available when others are sold out. If you want something a little different in a motel try the
Red Mill Inn
in Baldwinsville. It is a neat little village about 15 minutes northwest of Downtown. The Hotel is an old mill on an island next to the old Erie Canal. Prices are generally about $100 a night and people have told me it is a great alternative to chain motels. Hint: A new
Holiday Inn Express
(converted from a Wingate in 2010)is about 6 miles NW of the Dome near Exit 39 on the Thruway. New for 2010 and close to the Dome are a
Holiday Inn Express
a few miles east and a
Hampton Inn at Erie Blvd and Thompson Road
also a few miles east. These two locations will have plenty of retail and restaurant options nearby.
The Red Mill Inn
lodging next to the lock on the canal
If you are looking for a Bed and Breakfast in the city try
Moonstruck Manor
on the west side. If you want a romantic getaway town about 30 mins away, I recommend
Skaneateles
(pronounced "skinny-atlas")or
Cazenovi a
(pronounced "Caz-a-no-via"). Each village is charming and possesses excellent hotels, B and B's and restaurants. One of the
best lodges (Mirbeau)
in the country is located in Skaneateles. Another lodge with an excellent reputation is the
Sherwood Inn
. If you are looking for a more casual lodging experience in Skaneateles try
Skaneateles Suites
. Both Skaneateles and Cazenovia are under 30 minutes from the University.
A little bit closer in the eastern suburb of Fayetteville is the Craftsman Inn. The hotel is noted for fine Syracuse made Stickley Furniture.

DESTINATION LODGING 30-60 mins away
Several neat getaway destinations are away from Syracuse but still close to make the game day drive somewhat easy.
If you are coming up from the south the
Greek Peak Resort
offers Lodging, resort amenities and an indoor water park. It is located about 45 mins south of Syracuse. Another suggestion is
Aurora
it is about 50 minutes southwest of Syracuse on Cayuga Lake and has
The Aurora Inn
in a quaint setting. It is especially nice in the Fall as it is located in the middle of the Finger Lakes winery region. Be advised you need to book well in advance. For the sportsmen: try a weekend trip of fishing and football.
This resort has it all
for you about 40 minutes north of Syracuse. If you are coming from the east or like to golf and gamble I suggest
Turning Stone Resort
. It is located 30 mins east near I-90.
Skaneateles Suites: Unique collection of lodging options in a beautiful setting
SHOPPING (Nonfootball Watching Spouse Option)
Carousel Mall
is huge and expanding. It should be able to keep your spouse busy for hours. It is located about 2 miles north of downtown off I-81. Be advised the mall will be undergoing major, major changes over the next few years. It is soon to be renamed
DestiNY USA
. It is planned to be a multi billion dollar destination place with a huge section of outlet stores. This project has been ongoing for years...but really it finally looks like it will get moving in 2011. Even if it doesn't the mall is still the largest one in Upstate NY.
Carousel Mall--Phase One of Expansion
(Photo from Syracuse.Com, Jun 13, 2008)
Two other shopping options:
Shoppingtown Mall
has been an institution in Syracuse for nearly 50 years. It is located near the hotels around Carrier Circle. Locals tell me it has gone downhill over the last few years so it might not be a good choice.
The
COR Center
has a nice mix of stores in a warm village atmosphere typically found in upper income areas, check out the Fayetteville Towne Center property. It is located on the east side about three miles further east from Shoppingtown. Note: There is a nice YMCA located at the development.
UPDATE: LL Bean
opened an outlet late September 07. Another
COR Center
is in the northern suburb of Clay.
Sports Clothing
: If you forgot a rain jacket or sweatshirt...you have a couple choices on Marshall Street:
Shirt World
,
Manny's
, and
Syracuse University Bookstore
. You can also try the Marshall Square Mall just behind Marshall Street.
DINING IN SYRACUSE
: This
website is marvelous
as it offers websites and menus for hundreds of restaurants. It should help you narrow down your search.
DINING DOWNTOWN
When you arrive back after the game, a
multitude of choices await
you in Armory Square.
Visitors
should check out:
Syracuse Suds Factory
and world famous
Dinosaur Bar-B-Que
, and the
Blue Tusk
(a cool meeting place with an awesome selection of beer on tap). Another really cool bar is
J Ryan's Pub
and has 69 beers on tap and very good pub food. Dinosaur has the best BBQ in the North and the most eclectic atmosphere of any place in CNY.
Lemongrass and Bistro Elephant
offers upscale Thai-Pacific Rim and Euro=Asian Food respectively as good as you'll get in large metropolitan areas. Great News! Armory Square has reopened its second brew pub in summer '07. The
Empire Brewing Company
shut down and reopened. I visited fall '07 and it still retained its quality of food and brew before. It is a must for visitors. BTW, the other Brew Pub (Syracuse Suds-mentioned above) is also quite good and has TVs for viewing games. Finally the Syracuse Downtown Committee has put together a nice compilation of where to
eat, shop and play
in Armory Square.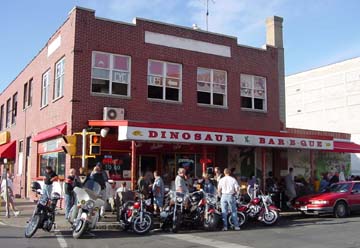 World Famous Dinosaur Barbeque--CLICK Here For VIDEO
Photo by Lucy Saunders (c) Who does a website about
cooking with beer
that is very useful for tailgating.
Still in Armory Square is a cool Irish Pub with good food called
Kitty Hoynes
. A nice Italian Restaurant called
Pastabilities
was one of the original pioneers in the Armory Square area. The
Black Olive
serves
Greek/Mediterranean
specialties and is located in the Armory Square area. Finally, a new restaurant that has good reviews is the
upscale BC Restaurant
. Not in Armory Square but a few blocks away by the OnCenter is
Ale 'n' Angus Pub
. It serves awesome steaks, burgers, and other American favorites at reasonable prices. Finally, if you want to cap off a grreat day try
bitterSweets Wine Bar & Desserts
in Armory Square.

NOTE: SOMETHING FOR THE KIDS
If you want a neat place to kill a few hours or you have children with you should check out
M.O.S.T.
it is an interactive science and children's museum. MOST also has an IMAX movie theater.
Blue Task and Kitty Hoyne's--two great places to have a drink
The City of Syracuse has a
good website
for visitors that is also worth checking out.
HANOVER SQUARE (Another Downtown Option)
Hanover Square
is a smaller version of Armory Square but it is considered quite good. Hanover Square is
#5 on the linked map
is bit more sedate and caters more to the 25+ crowd. The live music scene is alive an well at the
Bull and Bear Pub
.
Bull and Bear Pub
offers a
Food Menu
. If you desire Italian try
Anthony's Pasta Bar
. If French is your choice,
try L'Adour
. Just around the corner from Hanover Square is a nice Restaurant called Traditions of Syracuse at 201 S. Salina Street. Finally, the Downtown Committee has put together a nice compilation of where to
eat, shop and play
in the Hanover Square area.
THE UNIVERSITY AREA, aka "The Hill"
If you want the college experience you need go no farther than the Marshall Street area (this is the main retail area for Syracuse University just a few blocks from the Dome).
Another option is the
funky off campus college neighborhood on Westcott Street
(between Genesee and Euclid) about ½ mile away. There are several neat little restaurants and bars.
If you are staying at the Renaissance, Parkview, Genesse Grande, Skyler or Sheraton the
dolce vita world bistro bar/kitchen
is nearby at 907 E. Genesee St. It offers Wi-Fi, big screen TVs, craft beers, world-infused cuisine at reasonable prices.
Places that come highly recommended in the
Marshall Street area
(the main student retail center about 3 blocks from the Dome) are Faegan's Café and Pub (famous beer and food joint for meeting friends), Varsity Pizza (local institution where all SU's opponents pennants are on the wall. If SU wins a SU player gets the honor to turn the losing team's pennant upside down) of course has good, cheap NY style pizza,
Acropolis
Pizza and
Cosmo Pizza
(two other great pizza places) and
King David
(Middle Eastern and Greek food) all are on Marshall St. Another new restaurant on Marshall is the huge
Chipotle Burrito Chain
. King David's
actually moved upstairs
and Chipotle is now on the street level. While famous Hungry Charlies is gone,
Chuck's Cafe
replaced it. The
food is decent
but on gameday and the evenings this
place is hopping
with coeds. A few more places can be found at the "Shoppes at Campus Plaza". Walk downhill on Crouse just below Marshall Street and turn right into an alley. You can find several ethnic restaurants and bars there.
Sal's Birdland
is noted for their Wings and located in the
Schine Student Center
on campus. While not on the University proper a new
Chipotle Restaurant
is scheduled to open up soon near on Erie Blvd.
DINING AWAY FROM CITY CENTER
A few other unique places (you'll need a car) to try:
Heid's of Liverpool
is located about four miles north of downtown in the quaint village of Liverpool. The art deco styled restaurant has been an institution for generations of Syracuse residents. You need to try the coney "co-nee" (a white hot). Hoffman white "Coneys" aka "snappy griller" and red "Texas Hots", made in Syracuse and
Served at Heids
Here is a
video of Heid's
.

Tailgate Food Suggestions:
The Coney and Texas Hot served at Heid's is actually made by Hoffman Sausage. It is a local treasure and
most Syracuse natives
prefer no other. Like wise Syracuse prefers
Gianelli Italian Sausage
. I highly recommend trying them at your tailgate in Syracuse. The Hoffman and Gianelli products are found in the deli/meat section of most CNY grocery stores.
Heid's of Liverpool
Another unique place is
Coleman's Irish Pub
in the Irish neighborhood of Tipperary Hill.
Tipperary Hill
is famous for having the only green over red traffic light in the USA. The restaurant can be difficult to find so I suggest you print out a good map. The food is excellent and the atmosphere can't be beat. It has been rated as one of
America's 10 great Irish Pubs
.
Coleman's Pub--Check Out The Leprechaun's Door
If you want to try barbecue on the north or southwest sides of town the
Limp Lizard
is for you. It has a legion of devotees (many locals say it good but a step below the more famous Dinosaur BBQ downtown). It also has a biker and blues theme and shouldn't have the long waits like at Dinosaur. Syracuse has become an excellent city for barbecue (from a Northeast perspective LOL). The North Syracuse Limp lizard location is about 5 minutes from the airport. The other location (Onondaga Blvd) is SW of downtown. A new location has opened on the north side in Liverpool too. However, locals told me to go to the other Limp Lizards.
Limp Lizard Barbecue--definitely worth driving to.
One more barbecue joint that is as good as you can get down South is
Krabby Kirk's
out in the western suburb of Camillus. They serve other food too. Their Pastrami Sandwich is absolutely the best this side of Manhattan. While out in Camillus try two other high end restaurants in the
Green Gate Inn B+B
for French Cuisine and the
Inn-Between
for traditional fine dining.
The
Retreat Restaurant
is located in the Village of Liverpool. (Not far from Heid's, and close to Onondaga Lake Park). It has great food and caters to fans. Their spacious bar dining area boasts 25 large screen TVs, including our 110-inch high-definition projection TV.
Retreat Restaurant...serving great food for nearly 30 years
If you are coming from the South or Midwest you should try the
Clam Bar
for excellent seafood. I love their haddock fish sandwich. It is huge! It is located near W. Taft Rd and Brewerton Road ( US 11) also known as "Sweetheart Corner" in North Syracuse. It is about five miles north of Downtown. Parking is located in the rear off South Bay Road.
Another famous seafood restaurant in Syracuse is
Doug's Fish Fry
. There are a couple locations throughout Central New York. It is
especially well
worth the drive to Doug's in the scenic village of Skaneateles.
JD's Fish n Grill
also has their legion of devotees. They not only offer seafood but turkey. Be sure to print out one of their
coupons
.
Scenic Skaneateles (skinny-atlas)is 25 mins SW of Syracuse

Another excellent restaurant on the north side is Zebb's in Mattydale. Zebb's is located right next to the northbound Interstate 81 exit 26, in the Mattydale Plaza, opposite the parking lot from the K-Mart, about 4 miles north of downtown.
Zebb's
offers a varied menu with great burgers, BBQ, salads, etc. Another restaurant on the north side is famous for their comfort food. Located about 10 mins north of downtown in Cicero is home to,
Thee Diner
, it is about 1/2 mile east of I-81 on SR 31 across the street from Cicero-N. Syracuse High School. It offers a diner type menu (most items under $8) with some of the best desserts to be found. If you crave fried chicken and other good fast food try heading over to Solvay (5 mins west of downtown) to
Sam's Chicken Land
. They also have great cheese steaks and gyros.
BREAKFAST JOINTS
The Little
Gem Diner
just reopened under new management and it will provide you a great breakfast in a classic diner. Another one out in Liverpool is the
Gardenview Diner
and is very good. Finally
Mother's Cupboard
is just excellent for breakfast or any other time. It was featured on Man vs Food. They serve huge portions.

Little Italy
If you crave Italian Food you should wander around Syracuse's
"Little Italy"
. It is located
just north
of downtown.
Francesca's Cucina
in Little Italy is know for great food. You must try the local specialty "
Utica Greens
" at Francesca's. Also in Little Italy is
Asti Caffe
. They known for their Shrimp Scampi and other Italian specialties. Another Italian restaurant near Little Italy is
Gentile's Restaurant
, they serve "eclectic Italian". Finally, the best pastry shop in Syracuse is in Little Italy. The
Biscotti Cafe
is one of those places you quit your diet for a day. All types of Italian pastries will be sure to please. Biscotti Cafe also offers excellent Italian style sandwiches.
Angotti's
(a little less expensive and more children friendly) and located about 3/4 miles east of Little Italy. Another Italian Restaurant located about 2 miles NE of Little Italy in the Syracuse neighborhood of
Eastwood is Michael Angelo's
. Michael Angelo's is an upscale Italian diner/restaurant located in a small strip mall on James St a couple of places down from Mother's and Friendly's (more west towards Eastwood). Just opened in January. Their chef/cook is the guy who made the
chicken riggies
at Antonio's famous locally. Great food. Recommend the chicken riggies, the haddock sandwich, the lasagna, if it has sauce on it, you are going to love it. Prices are very good as well.
One more excellent restaurant is
Delmonico's Italian Steakhouse
, located on Erie Blvd East near Thompson Road, not far from Carrier Circle or the SU campus. It has become a great meeting spot for people who enjoy huge steaks and great Italian Food. You'll have to try the 24 ounce steak and pasta for
under $20.00
! One last excellent Italian Restaurant is
Casa di Copani,
located about two miles northeast of downtown on Burnet Ave, near Thompson Road, also not far from Carrier Circle.
If you crave a great sandwich/sub in the Jewish Deli style then look no further than the
Brooklyn Pickle
. They have an extensive menu and you
will not leave hungry
. They are at the corner of Midler and Burnet next to I-690 about 1 mile east of the university. They cater. Phone: 315-463-4969.
If you like steak sandwiches, have a big appetite and are on a budget (I am assuming all apply to a college student), I would recommend
Second North Deli
. Order the house specialty, the Fresh London Broil sandwich. It costs $5.95 for a whole (can't order a half). Spend the extra .80 or whatever it is to add the mushrooms and the onions. Comes on a great freshly baked hard roll. Just an outstanding value. And while you are there, get an order of their potato chips, made in house, served hot from the deep fryer. Order them extra crispy.
If you are looking for a
Philly Cheese-steak
I suggest A Taste of Philadelphia on the NE side of the city in the Eastwood neighborhood.
Finally, another great cheese steak and pizza can be found about
10 mins SE of downtown at Robbie T's
.
SPORTS BAR ALERT
: Good news--walking the campus looking for new sports bars yielded me a new one offering ESPN Gameplan on campus. ZJ's Pizza and Wings (aka Harry's) offers multiple screens with ESPN gameplan. It is located at 700 S. Crouse Ave in the basement....look for the CVS drugstore.
No website
but you can call them to see if they'll put on your game (315-422-2123). Another place on campus is
Chuck's Cafe(nee: Hungry Charlies)
and is located in an alley just north of Marshall Street. Chuck's is a great place to watch a game during the day.
In the local area: If you are looking for good times and good food in a sports bar offering ESPN Gameplan, you need to drive to one of the four
Tully's
locations in the Syracuse/Liverpool area. A west side favorite is
Rosie's Sports Pub and Grill
located at 1443 W. Genesee St. 315-468-1269. They offer ESPN Gameplan. Another classic sports bar is
Buffalo Wild Wings
. It is located near Lowes off Route 11 and Circle Drive in the North Syracuse/Cicero area and they offer all the college games via ESPN gameplan, Directv, etc... Another place to check is the
Beginning II
, it is very close to the Carrier Circle Motel area. I recommend calling to see if they can get your college game as I'm not sure if they offer ESPN Gameplan.
Quaker State and Lube
has quite a following and is another option to watch games--however it is located about 8 miles NW of the Dome. If you are downtown there is a new sports bar in Armory Square.
Gio's Tavern, Armory Square's new sports-themed bar
, at 207 Walton St., Syracuse, the former Ambrosia nightclub. The pub features 5 large-screen TVs, two pool tables, electronic and steel-tip darts and shuffleboard, plus a LARGE selection of mainstream & craft draft and bottled beer. Also downtown (near Clinton Square) is a new sports bar sceduled to open soon...called the
Saltine Warrior Sports Pub
. Google it and see if it is open this Fall.
Golf
Central New York is blessed with a wide variety of affordable public golf courses. If you are a golfer and have time to get in a round, bring your clubs and check out one of the local tracts. You should be able to play golf in CNY at least through the end of October and sometimes you can get a round in with decent weather during November. Courses are generally opened from early April through late November. Here is a quick rundown of some of the best choices the area has to offer:
Green Lakes Golf Course--a great bargain
Green Lakes
Green Lakes is a state course designed by the legendary Robert Trent Jones Sr in 1935. Built on a series of drumlins about 10 miles east of Syracuse, the course is very hilly. Flat lies are rare. Not very long...5920 from the white tees and 6212 from the blues. The greens feature the massive undulations that became a trademark of the young RTJ. Some look like potato chips. Very pretty area. You can see Oneida Lake and the foothills of the Adirondacks from the high points of the course. Closes just after Thanksgiving each year.
The course was not well maintained just a few years ago. An extensive irrigation system has been installed and the course is looking better since they become operational.
Yardage: reds: 5481, whites: 5920, blues: 6212.
Battle Island State Park Golf Course
If you are staying in the northern suburbs this is a fun course to play. It sits next to the Oswego River on State Route 48 a few miles north of Fulton. It is about 25 minutes from Downtown. It has hills, a little bit of water and no sand but fairly tight fairways in places. It is a real nice value and in decent shape. It is short but you'll use every club in your bag save your sand wedge. Par 72 plays from about 5400 to 6000 yards.
Radisson
Radisson Greens Golf Club is a semi private, 18 hole layout. It is located northwest of the city of Syracuse, about 20 minutes from downtown near the village of Baldwinsville. The design features large, bent grass greens, tight tree-lined fairways, large bunkers guarding all greens, with fairway bunkers on all but 5 holes. Lakes provide water in play on 6 holes and add to a challenging round for the most skilled player, packaged in a beautiful, scenic layout. Designed by Robert Trent Jones Sr., the course opened in 1978.
The course features a number of striking and impressive holes and is arguably the most challenging layout for a public course in Onondaga County (the Turning Stone courses are not in Onondaga County). It is unfortunately not well maintained. Bunkers are rarely raked and the fairways are troubled in some areas.
Yardage: reds: 5543, whites: 6360, blues: 7010.
Weekend cost: varies.....see the web site.
Links at Sunset Ridge
The Links at Sunset Ridge is a relatively new course in Marcellus, about 20 minutes west of the SU campus. Built on rolling hills, the course features some great views of the surrounding countryside and farms. It is consistently well maintained.
The course is fairly wide open and has little danger....water and sand come into play on only a handful of holes. Despite having 6 par 5s, it is fairly short. The greens are hard to read and fairly quick. The carts are outfitted with GPS devices.
Yardage: reds: 5298, whites: 6123, blues: 6700
The 16th hole at Links at Sunset Ridge requires a precise approach shot over a large ridge to a green cut into the side of a large hill.
Foxfire
Foxfire is a challenging course located just off route 690. about 15 minutes northwest of the city of Syracuse. The well manicured layout meanders through various townhouses, patio homes and private residences. The fairways are fairly tight and most of the greens are protected by several fairway and greenside bunkers.
The course is generally well maintained.
Yardage: reds: 5401, whites: 6372, blues: 6856
The Links at Erie Village
The is an awesome course and really a
very good bargain
. It blends an interesting mix of driving fairways and tight carries over water. It is located about 10 minutes east of the Carrier Dome.
The 15th Hole at The Links at Erie Village
Timber Banks
Timber Banks
is a high end Nicklaus course built on the Seneca River around a residential community. Nice design. Nice practice facilities. They opened the back nine in 2009 and the front nine just made its debut in 2010. They tout it as a Turning Stone Casino level golf facility with a shorter drive and a lower price. Haven't played the front yet but based on what I have seen to date, I think that is going to end up being pretty much on the money. Green Fees are from about $40-65.
Timber Banks, new to the scene in 2009
Turning Stone
The Oneida Nation Turning Stone golf facility has emerged as the premiere golf destination in New York State. In fact it just hosted its first PGA Tour last September. It features 3 outstanding premium priced 18 hole courses:
Atunyote
,
Kaluyat
and
Shenendoah
. All three are spectacular designs, especially Atunyote, which hosts an annual PGA event the 3rd week of September. All have been built in the past 5 years. All are extremely well maintained. If you have the money and the game, this is the place to go. Note that Turning Stone is a 35 minute drive from downtown Syracuse. It is worth the drive.
Atunyote reds: 5102, gold: 6069, whites: 6561, blues: 6998 Weekend cost: varies....see web site (but $150-$200)
Kaluhyat reds: 5293, gold: 5690, whites: 6183, blues: 6724 Weekend cost: varies....see web site (but $70-$125)
Shenendoah reds: 5185, gold: 5839, whites: 6328, blues: 6685 Weekend cost: varies....see web site (but $70-$125)
Kaluhyat
Atunyote
BUDGET GOLF
Drumlins West
If you are golf challenged and/or budget challenged, consider playing at the
Drumlins West Course
. Drumlins is owned by Syracuse University and is located very near the SU South Campus. The West Course is open to the public, features short holes and open fairways and great rates ($17 to walk the course).
Orchard Vali
For you bad weather "golfaholics" I offer
Orchard Vali
. It is located about 10 mins south of downtown. It is short, rather wide opened golf course suitable for the beginner/hacker or the golfer who wants to get a round in when other courses are closed. It is noted for the fastest drying fairways in the area due to a gravel base. Rates are reasonable and food is very good.
Finally, if you just want to work on your irons the city offers two municipal 9 hole courses. Rates are very reasonable--about $6 but you get what you pay for--don't expect alot.
Burnet Park Golf Course
is about
a mile west
of downtown. Sunnycrest Park Golf Course is about
1 mile northeast
of downtown.
Hope this helps! TexanMark
The opinions expressed in this guide are those of TexanMark. While every effort has been made to ensure all the information presented is accurate and current, it would be wise to verify things when possible. Please note that this guide is not endorsed by Scout.com, Rivals.com or its site publishers, administrators and/or moderators.
Return to
TexanMark's Tailgate Guides
Main Page